Careers Information
The Careers Education, Information, Advice and Guidance provision (CEIAG) at John of Gaunt School aims to support students in making informed choices about their next stage of education, employment and training. Students should leave school with the necessary skills, knowledge and self-awareness needed to prepare them for all opportunities outside of school so they can transition successfully with long lasting career management skills.
Careers Education
Our careers related learning programme for years 7-13 is delivered through a range of activities including:
Timetabled careers lesson within fortnightly PSHE/PEC
Visits to Further Education and Higher Education Institutions
Work Experience placements in Years 10 and Year 12 - Work Experience Yr 12 booklet & Work Experience Yr 10 booklet
Annual Careers Fair
Employer talks during assemblies and subject specific lessons
Careers related learning sessions through whole school activities days and external trips
Apprenticeship information and advice sessions
Access to employer taster events such as the MOD/NHS
Involvement from Alumni where possible
Please click on the following link for more details on our careers programme.
Provisional Careers policy 2019
(The Baker Clause) Access to Provider Statement - Support for Employers
In order for all our students to have opportunities to hear from a range of higher education, further education, employers and training providers the school welcomes visitors to come into school and share information to best prepare pupils for life beyond school Provider_Access_Policy
Careers Advice and Guidance
Students can access impartial guidance and support through our dedicated level 7 qualified Careers Adviser Amy Lynch who is available for 1:1 careers interviews or small groups throughout the year and with regular drop-in sessions at lunch and break time. Students will be supported in understanding and interpreting information on a range of options and be advised on how best to plan their next steps.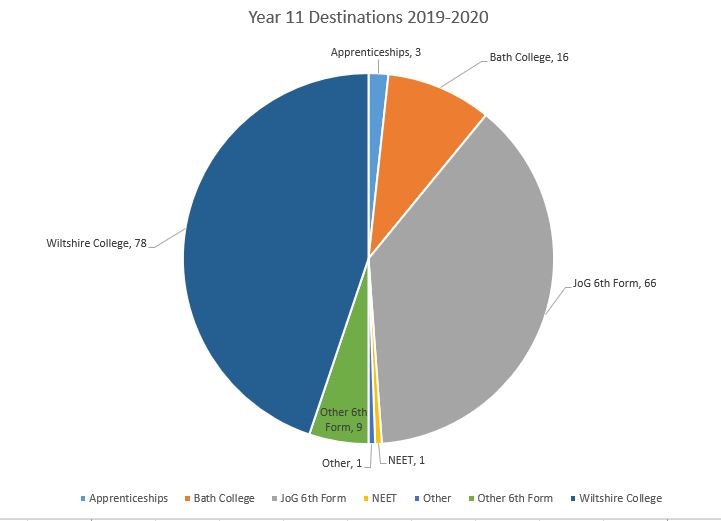 Careers Information
Careers information is available through links on our website, through resources in the school careers library, through e-mail, telephone helplines and ICT guidance packages.
Useful websites for students:
General careers advice
Informed Choices https://www.informedchoices.ac.uk/ advice on picking post-16 subjects for studying at degree level – particularly at Russell Group universities.
What job can I do with my favourite subject? Ucas/after-gcses/find-career-ideas/explore-jobs
Career Pilot Careerpilot.org.uk
National Careers Service nationalcareersservice.direct.gov.uk/
Call 0800 100 900 to speak to an adviser
No career Ideas, No Clue – try these quizzes to match you personality, skills and interests to a career!
https://icould.com/buzz-embed/
https://www.prospects.ac.uk/planner
http://www.startprofile.com/ This is a free, online careers platform, designed to connect 11-18 year olds with their future career potential. Students can use this site to research and personalise their career plans and to record their career related learning. This platform is also used during the year in the school's PSHE lessons.
Higher Education
Which Guide to University http://www.theuniguide.co.uk/
Help with choosing a degree http://www.ukcoursefinder.com/
If I were to do a degree in a certain subject, where could it lead?
https://www.prospects.ac.uk/careers-advice/what-can-i-do-with-my-degree
Review and Compare universities https://discoveruni.gov.uk/
Job Hunting and Apprenticeships
What are apprenticeships? www.prospects.ac.uk/jobs-and-work-experience/apprenticeships
Apprenticeship vacancies www.findapprenticeship.service.gov.uk/apprenticeshipsearch
Part-time/Full-time/ Apprenticeship vacancies http://www.indeed.com/
CV and Interview tips https://www.prospects.ac.uk/careers-advice/applying-for-jobs
Where are the skills shortage areas, what are the sectors set to grow and who are my local employers? workwiltshire.co.uk/
Support for parents
The school careers adviser will be available for booked appointments at Year 11 and Year 8 subject evenings as well as at GCSE options evenings. E-mail and telephone requests are also supported and encouraged. Regular careers related information and events will also feature in the schools newsletter JoG news. Support will also be offered on A-level and GCSE results days.
Useful websites for parents:
CareerPilot Parent Zone - parentzone.careerpilot.org.uk/parent
University Options http://university.which.co.uk/teachers/introduce-higher-education-options/university-parent-guide
Financial information for higher education - http://media.slc.co.uk/sfe/quickStartFinanceGuide/Parents-Of-Students
Life skills Parent Zone - https://www.barclayslifeskills.com/parents/
Apprenticeships https://amazingapprenticeships.com/
Advice for parents of children with special educational needs or disability (SEND)
Wiltshire Local Offer http://www.wiltshire.gov.uk/local-offer
Support for Teachers - https://www.inspiringthefuture.org/ and https://successatschool.org/advice/subjects
https://www.advancingaccess.ac.uk/ Resources for teachers supporting student making key educational choices
For further information on careers, related learning activities at John of Gaunt please contact:
Linda Baines (Assistant Head/Head of 6th form and SLT link for Careers) lbaines@jogschool.org
Amy Lynch (Careers Leader/Careers Adviser) ALynch@jogschool.org
Elaine Baldwin (Work Experience Co-ordinator) ebaldwin@jogschool.org
Liz Summerson (Link Governor for Careers) LSummerson@jogschool.org