Annual Art Exhibition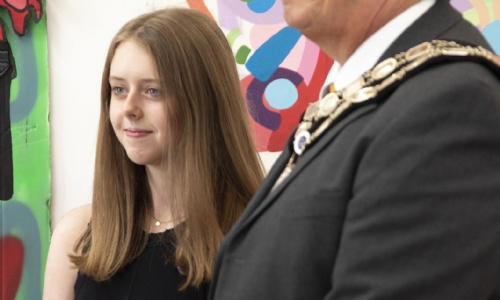 Tuesday saw the opening of John of Gaunt's annual Art Exhibition with a Private View of A Level Art for friends, family and invited guests. This year, for the first time, the exhibition is being split and hosted out of school at Drawing Projects UK, exhibiting A Level Art, with Town Hall Arts showing GCSE Art and Photography. For further photos please click here https://www.johnofgauntschool.org/gallery/default.asp?pid=7&gcatid=2&action=create
For Tuesday's event, Anita Taylor of Drawing Projects UK opened the exhibition and spoke on behalf of Iain R. Webb before introducing Becca Knee, Head of Art, Photography and Textiles at John of Gaunt and guest of honour, Mayor Graham Hill.
We decided to bring the exhibitions into town as a way to not only celebrate the student's creativity and talent and to celebrate the town's creative venues, but also to mark a very successful year in the Art Department. This year we've had works selected for exhibition at The Royal Academy Student Show, both gallery and on-line, for the Cloth Road Exhibitions and one of our A Level students made it through to the regional finals of the Roche Court 'ARTiculation' Prize.
The exhibition shows a selection of very fine work from all 5 A Level students and covers a wide range of disciplines and techniques from painting and photography to video and soft sculpture and even some art on bricks. It was a great evening and the perfect start to the school's exhibitions. The work will remain on public view at Drawing Projects UK, Bridge House, Stallard Street, until Tuesday 5th July.
The A Level artwork is being shown alongside 'Iain R. Webb – DRAWING FASHION: sketchbooks from the edge of the catwalk'. This, too, comes highly recommended, not just for the art but a fascinating insight into the art of fashion and the fashion industry.
This exhibition forms a record of the last four decades of fashion history. Celebrating drawing as a means of recording, remembering, and communicating, sits at the heart of this exhibition which, simultaneously, celebrates and reveals the workings of the fashion industry. Iain's career reads like a roadmap of UK Fashion over this period. From St. Martins School of Art, through BLITZ, Elle, Vogue Russia, Harpers & Queens and just about every designer you ever heard of.
More importantly, Iain is a John of Gaunt Alumnus. He was hoping to be there in person to welcome the students but, sadly, is still recovering from Covid. We all wish him a speedy recovery. In his absence, Anita read a wonderful message of support and encouragement for the students.
Next Tuesday, 5th July, sees the opening of the GCSE Exhibition with a Private View in the Town Hall. From Wednesday the exhibition will be open to the public for a full week. This is the first year we've had a Photography option and do hope as many people as can make the time, take the time to come and see all the student's work. Not least because it may well be your only opportunity. Each exhibition has a strict 'no photos of the work' policy. This is an Exam Board requirement, and we'd very much appreciate your cooperation.
Art is challenging, it takes courage and talent along with hard work to produce the work on display. If you do find time to pay a visit, do let the school and our hosts know how much you loved it. Your support and encouragement is invaluable. We look forward to seeing you.
Drawing Projects UK (Bridge House) is open Friday and Saturday 11-4 and by appointment. It's recommended you book for Iain R. Webb (entry is free for both exhibitions) using the website https://drawingprojects.uk/index.php/exhibitions/currently-on-show (scroll down to 'visitor information for link to booking page).