Calling all John of Gaunt students!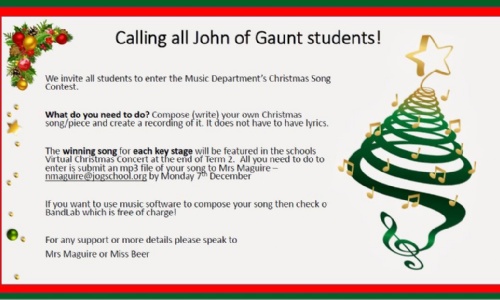 We invite all students to enter the Music Department's Christmas Song Contest.
What do you need to do? Compose (write) your own Christmas song/piece and create a recording of it. It does not have to have lyrics.
The winning song for each key stage will be featured in the schools Virtual Christmas Concert at the end of Term 2. All you need to do to enter is submit an mp3 file of your song to Mrs Maguire – nmaguire@jogschool.org by Monday 7th December
If you want to use music software to compose your song then check out BandLab which is free of charge!
For any support or more details please speak to Mrs Maguire or Miss Beer