A fantastic start by our new Year 7s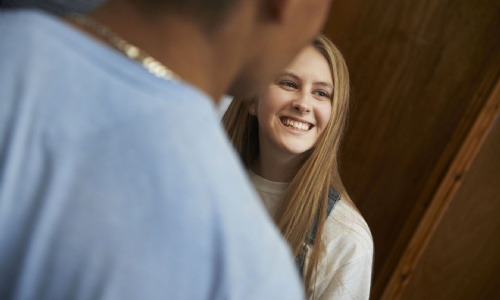 Their first week at John of Gaunt
Dear Parent and Carers,
Thank you all so much for supporting your children to return back to school this week, we have had a really positive time with them and it has been wonderful to see their confidence grow over the last few days.
As always when things are new they take a while to get used to, that said, the students are already getting used to the new systems. We are also aware that because of some of the changes in place due to Covid-19 restrictions some aspects will take slightly longer than usual. However, as students become more familiar with our systems, aspects such as lunch, using the toilets and finding their way around the one way system will all become a lot quicker and more efficient.
We are really proud of how quickly Year 7 are settling in, hearing the laughter and seeing the smiles from the students once again has been so uplifting and I am delighted to see that every student in Year 7 has already gained at least one positive point with others achieving even more.
I also wanted to provide you with some information about communication. As a school we believe good two way communication is important and we are really proud to have really strong relationships with our parents and carers. Clearly, communication in a secondary school is different compared to primary school as you don't always see the teacher at the end of a school day. We thrive on you staying in touch with us and at this early stage I wanted to outline various ways in which you can stay contact us.
Email
Email is one of the quickest and most convenient way to communicate with staff. The email address of each member of staff will be their first initial, followed by their surname, followed by @jogschool.org (jsmith@jogschool.org)
All staff names can be found by following this link https://johnofgauntschool.org/staff/current-staff/
(Please be aware we are about to launch a new website so this address will change. All staff names are also on the new website under the staff section)
Telephone
Do feel free to phone the school at any stage. The main reception number is 01225 762 637. It may be possible to put you through to the member of staff, although, there will clearly be times when members of staff are not able to take your call. If this is the case, the receptionist will take a message and arrange contact for you through the relevant member of staff.
Reception
We love seeing parents so feel free to pop into our reception and see Mrs Lee at any stage to see if we can help you!
Questionnaires
During each parents evening and during the information evenings we will ask you to fill out a questionnaire. This is an opportunity to provide us with any written feedback.
Meeting Request
There may be times when it is appropriate to have a meeting. This could be at your, or our request. If you feel that the item is best discussed in person, you can request a meeting by emailing or telephoning the member of staff.
Website
Our website is regularly updated with information. Please do keep an eye on!
Social Media
Currently we tend not to use social media very much. However, we are looking into this and will let you know if we start to broadcast regularly on channels. We would always ask that parents come to us directly to ask question rather than post on external social media channels. We are always happy to help!
Newsletter
We will be sending out a newsletter to your email account every Friday. This will have a range of articles and information that will be relevant to all year groups. Our first newsletter will be sent out next Friday.
Once again, thank you for supporting your children to attend school this week, it has been a real privilege to watch some early nerves change into excitement as the week has gone on. They certainly seem like a really lovely year group and we are really excited about their journey with us. If there is anything that we can support you with, please do not hesitate to contact us.
Paul Skipp
Headteacher