Library News
It has been lovely to have a full term in the library!
This term, all Y7 and Y8 students have completed a new Star Test, and I am so pleased to see that both year groups have improved their reading age in spite of the last lock down.
There are some big reading successes too: we have a word multimillionaire in Y7 and a Y8 millionaire! Well done to Charlotte W in 7H on reaching 2 212 639 words and Grace S in 8E on reaching 1 012 072 words! Y7 also has new millionaires: Kyle W in 7E has read 1 528 441 words and has quizzed 33 books. Eleanor S in 7D has read 1 323 272 words and Lucy M in 7H has read 1 178 396 words. Well done!
On the most words read top list for Y7 we have Erin C, Wes M, Anabelle B, Ewan M, Xavier H, Megan L, Charlie H, Lucy H, Aimee F and Ben G. On the Y8 list we find Ola R, Joseph C, Olivia C, William I, Jayne M-S, Katie S, Faye N, Rhyley J, Gabriella F and Katie Lydiard. Well done everyone!
I just had to share this photo! I love seeing the students get into their reading in lesson! Last week, all I could see of Oliwia and Evie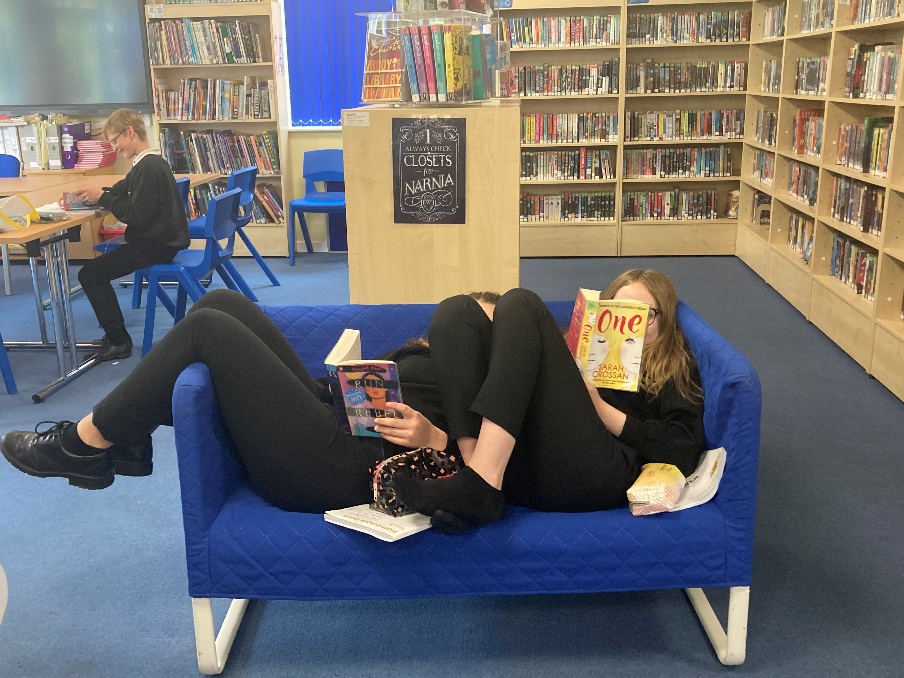 was legs and books 😊 Both reading some favourite books of mine; One by Sarah Crossan and Run Rebel by Manjeet Mann.
Well done ladies!
There are some really exciting things coming up around books, reading, literacy and the library in term 6! I'll keep you posted!
Mrs Bruton